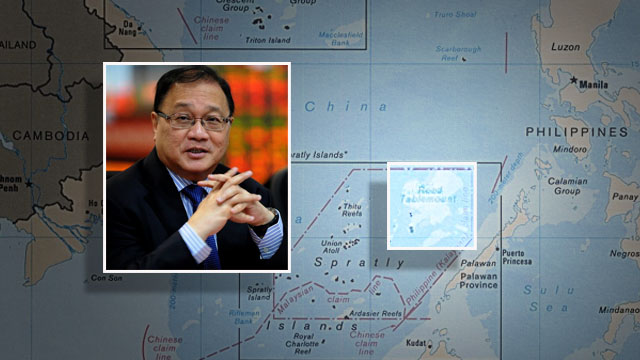 For a profit, would you dare to fight the Chinese?
The mother of all "political risk"-laden investments is probably this one: Say a country embroiled in territorial disputes over potentially oil- and gas-rich waters auctions blocks for exploration. If you were an energy firm, would you dare bid and, more bravely, invest in disputed waters? Let's also add this complication: exploring these areas may anger the region's strongest power with its largest military. It's just asking for trouble, right? Better safe than sorry, eh?
This situation is exactly what faces the Filipino-British concern Forum Energy PLC, whose chairman is one of the Philippines' savviest businesspersons, Manuel Pangilinan. After putting in a winning bid during auctions that most international energy majors
stayed away
from for reasons given above--offending China may not be a path to success in the 21st century world economy--Philex is being pressured by the Philippine government to commence with drilling. Earlier on, Pangilinan made a "conciliatory" gesture by offering
joint exploration
to China's CNOOC. Commercial prospects aside, the latter state-owned firm did not realistically consider this offer for the obvious reason that it would have lent legitimacy to the Philippines' ownership of these disputed areas in auctioning exploration rights:
The 11-point proposal includes a Framework Agreement between Philex and CNOOC "relating to an area of mutual interest which will be defined as the area covered by SC 72."

"Other disputed areas (such as the Spratlys) could be included by agreement," wrote Pangilinan. SC 72 refers to Service Contract 72, signed in 2010, in which the Philippine government awarded Forum Energy Plc. (FEP) exploration rights to a basin within Reed Bank. Philex owns 64.45 percent of FEP, a London-based listed oil and gas exploration firm focused on the Philippines. FEP in turn owns 70 percent of SC 72.

SC 72 is a seven-year exploration contract that can be extended y three years. Its 25-year production period can be extended by another 15 years.
The Chinese
have not
played along with this PR stunt, obviously:
Manuel Pangilinan said that Filipino-British company Forum Energy PLC communicated the offer to China National Offshore Oil Corp. to explore Reed Bank, northwest of the Philippine island of Palawan. Philippine and Chinese vessels had a confrontation there three years ago. Pangilinan said the Chinese company, also known as CNOOC, has not responded but Forum is continuing its attempts to engage with the Chinese company. He said the project has not attracted other investors because it is in an area of conflicting territorial claims and other investors did not want to offend China.
It seems Pangilinan's group has been getting cold feet since it's been four years and they haven't really done anything. Do they lack the capabilities, do they fear China...or both? Being ever so gung-ho, it appears the Philippine government is pressuring him to commence with the drilling:
Pangilinan said Forum still intends to drill two wells in first half of 2016."We will do it on our own if we have to ... as long as we are not disturbed," he said. The Department of Energy has extended Forum's delayed drilling program by a year, giving it up to Aug. 15, 2016 to fulfil its contractual obligations. Pangilinan said weather would permit drilling only from March to May.
Exploration rights have been
extended
, but you have to begin to wonder if Pangilinan and company are really willing to tempt fate by commencing on drilling anytime soon. Comically, the Philippine "
military
" (it is lame-to-non-existent especially in terms of naval
capabilities
) has even guaranteed the safe operations of Forum Energy:
I really hoped the reporter had misquoted [Philippine President] Aquino or merely hyped his statements. But I checked the speech posted on the government's website and there it was (translated from Pilipino): "We have a clear message to the world: The Philippines is for Filipinos, and we have the capability to resist bullies entering our backyard," he said.




Either we have a president who is a liar or one who deludes himself into believing he heads a country with enormous naval power. Didn't he even ask his Defense Secretary what exactly is the Navy's "capability" to fight bullies in the disputed seas? He would have been told, it consisted essentially two frigates—the World War II vintage BRP Rajah Humabon and the 48-year old US Coast Guard hand-me-down BRP Gregorio del Pilar.
It's like a nightclub owner making the imp Justin Beiber his bouncer, but therein lies the rub.