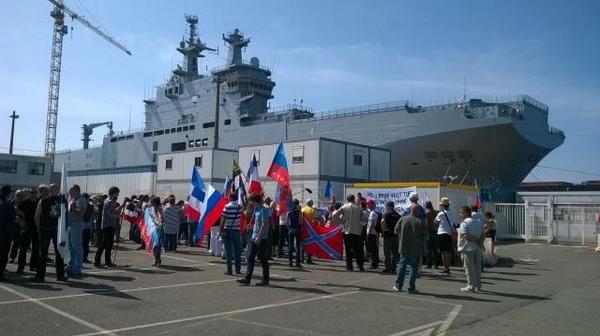 Like giving matches to a pyromaniac? French-built warships ordered by Russia.
It is no secret that the French economy is not doing so well. Its President Francois Hollande faced a no-confidence vote just
this week
, largely due to discontent over the state of the economy. After famously applying top taxes rates over 50%, his administration is backing down somewhat on the more socialist elements of his economic plan. A pro-business Hollande; who'd have though of it? I guess approval ratings south of, oh, 15% concentrates the mind.
Aside from class warfare taking a backseat to economic reality, another concerns the recent controversy on what to do with French-built
Mistral-class
amphibious assault ships ordered by Russia. (Just the ticket for showing up unannounced on certain neighbors' shores.) After applying sanctions on Russia as part of NATO, France selling sophisticated weapons systems that can aid Russia's territorial ambitions undoubtedly goes against the spirit of punishing Russia for military adventurism. The Putin-friendly
Russia Today
reports
on the surreal scene of Russian sailors testing one of two vessels. Of course, we are not even sure if these will be delivered:
A 400-strong Russian crew is manning a French-built Mistral-class warship as it conducts sea trials. It comes after Paris announced the possible cancellation of the contract due to the conflict in Ukraine. The Vladivostok left the harbor of Saint-Nazaire in western France on Saturday for the ship's fifth training and trial trip. The warship is manned by some 400 Russian officers and sailors, who had arrived in France to learn how to helm this kind of vessel.

The number of crew far exceeds the 170 necessary for Mistral-class ships, but the Russians are preparing to have at least two ships eventually and are therefore preparing more sailors to man them. The trial was meant to start Wednesday, but was postponed by several days for technical reasons. The Vladivostok is scheduled to have a total of six trials, before it is handed over by the French shipbuilders to Russia later in November.

The deal is far from being assured, however, after French President Francois Hollande announced a suspension of this part of the contract following a NATO summit in Wales. He said he would decide on whether to respect French obligations or breach the contract [gotta love these loaded terms] with Russia in October. Russia signed a $1.6 billion contract to build two Mistral-class warships in 2011. The second one is scheduled to be completed next year.
So, will France breach its contract by non-delivery of the warships? Also note that there are technology transfer
stipulations
which may help Russia's currently decrepit shipyards to build their capacity:
The Mistral contract also includes a technology transfer program, which would see French expertise and technology applied to the modernization of Russian shipyards, ostensibly for the construction of a third and fourth Mistral carrier by Russian shipbuilders.

[Head of Rosoboronexport (Russia's arms export/import concern) Anatoly] Isaikin said the technologies in question are related to hull construction, command and control systems and communications. "The idea is that all these technologies can be used in Russia for the construction of warships for the Russian navy," Isaikin said. The technology transfer is not contingent on the construction of a third and fourth Mistral carrier, he added, an option that no longer appeals to a defense establishment set on replacing foreign defense imports with Russian production.
From a geopolitical standpoint, it's a no-win situation:. If France does not deliver, it loses
$1.66 billion
in revenues from the sale of these ships and gains the ire of the shipbuilders. If France does deliver, its allies will chastise it for giving the aggressors the tools for aggression. (Also see this running
commentary
by
Defense Industry Daily
.) Russian propaganda is focused on showing how French shipbuilders want these warships delivered lest shipbuilders
lose their jobs
.Their concern for the French workingman is so....touching.