♠ Posted by Emmanuel in
Trade
at 4/15/2008 02:34:00 AM
OK, so I too am
guilty
of featuring mildly apocalyptic (dontcha love that oxymoron?) stories about a world gone mad over high commodity prices--especially for food. Recently, the
Wall Street Journal
had a
variation
on the theme. Among other things, India is reportedly accusing the US of mounting a "crime against humanity"[!] by promoting the use of biofuels:
Finance ministers gathered this weekend to grapple with the global financial crisis also struggled with a problem that has plagued the world periodically since before the time of the Pharaohs: food shortages.

Surging commodity prices have pushed up global food prices 83% in the past three years, according to the World Bank -- putting huge stress on some of the world's poorest nations. Even as the ministers met, Haiti's Prime Minister Jacques Edouard Alexis was resigning after a week in which that tiny country's capital was racked by rioting over higher prices for staples like rice and beans.

Rioting in response to soaring food prices recently has broken out in Egypt, Cameroon, Ivory Coast, Senegal and Ethiopia. In Pakistan and Thailand, army troops have been deployed to deter food theft from fields and warehouses. World Bank President Robert Zoellick warned in a recent speech that 33 countries are at risk of social upheaval because of rising food prices. Those could include Indonesia, Yemen, Ghana, Uzbekistan and the Philippines. In countries where buying food requires half to three-quarters of a poor person's income, "there is no margin for survival," he said.

Many policy makers at the weekend meetings of the International Monetary Fund and World Bank agreed that the problem is severe. Among other targets, they singled out U.S. policies pushing corn-based ethanol and other biofuels as deepening the woes.

"When millions of people are going hungry, it's a crime against humanity that food should be diverted to biofuels," said India's finance minister, Palaniappan Chidambaram, in an interview. Turkey's finance minister, Mehmet Simsek, said the use of food for biofuels is "appalling."

James Connaughton, chairman of the White House's council on environmental quality, said biofuels are only one contributor to rising food prices. Rising prices for energy and electricity also contribute, as does strong demand for food from big developing countries like China.

But beyond taking shots at the U.S., there was little agreement this weekend on what should be done. Mr. Zoellick pushed the ministers to focus on the food issue in a dramatic Thursday news conference at which he held up a 2-kilogram (4.4-pound) bag of rice, which he said would now cost poor families in Bangladesh half their daily income. He kept up the pressure over the weekend. In a Sunday news briefing, he said, "We have to put our money where our mouth is now -- so that we can put food into hungry mouths."

But the weekend's meeting produced few concrete results. Mr. Zoellick recently urged rich nations to contribute another $500 million to the United Nation's World Food Program, but he said that the U.N. has received commitments for only about half the money.
TIME ups the
Armageddon factor
by suggesting that any number of regimes may be toppled by high food prices:
Haiti is in flames as food riots have turned into a violent challenge to the vulnerable government; Egypt's authoritarian regime faces a mounting political threat over its inability to maintain a steady supply of heavily subsidized bread to its impoverished citizens; Cote D'Ivoire, Cameroon, Mozambique, Uzbekistan, Yemen and Indonesia are among the countries that have recently seen violent food riots or demonstrations. World Bank president Robert Zoellick noted last week that world food prices had risen 80% over the past three years, and warned that at least 33 countries face social unrest as a result.

The sociology of the food riot is pretty straightforward: The usually impoverished majority of citizens may acquiesce to the rule of detested corrupt and repressive regimes when they are preoccupied with the daily struggle to feed their children and themselves, but when circumstances render it impossible to feed their hungry children, normally passive citizens can very quickly become militants with nothing to lose. That's especially true when the source of their hunger is not the absence of food supplies but their inability to afford to buy the available food supplies. And that's precisely what we're seeing in the current wave of global food-price inflation. As Josette Sheeran of the U.N. World Food Program put it last month, "We are seeing food on the shelves but people being unable to afford it."
Recently, the IMF put out two takes on the matter of rising commodity prices in graphical form. First, do read the entire accompanying article by the IMF on the impact of rising food prices if you have the chance: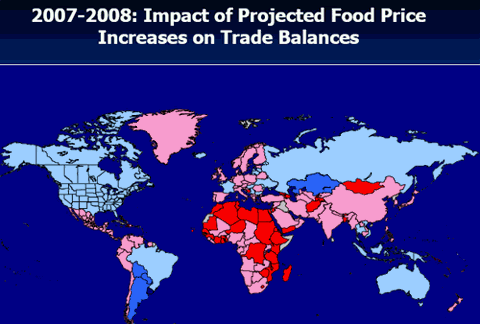 The countries in red are expected to suffer the biggest trade balance losses from higher food prices, while those in blue will have the biggest gains. Those in pink suffer to a lesser extent, while those in aqua gain to a lesser extent. Unfortunately, many African countries are expected to suffer more from higher food prices. On the other hand--there always is another hand--the IMF also believes that African countries will benefit from higher commodity prices in general. Yes, they lose out in terms of needing more food imports, but that may be offset by gains in terms of commodity exports enhancing economic gains: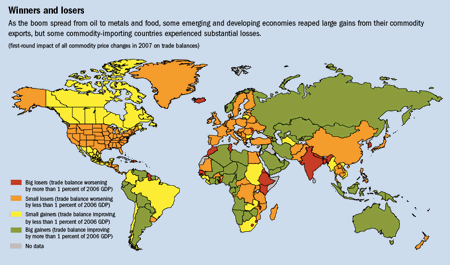 It's very interesting and important stuff; do read the brief IMF commentary on rising commodity prices worldwide as well.